Degreasing of professional kitchen hoods
The hood of a professional kitchen is the heart of a restaurant. If it does not work well, the conditions in the kitchen or even in the dining room can deteriorate. This may lead to abundant smoke, the proliferation of bacteria, odors in the room, and energy expenditure, …… not to mention the risk of fires.
Your grease extraction ducts must therefore be inspected and cleaned regularly for perfect sanitation.
The frequency of degreasing kitchen ventilation varies according to:
The number of people served annually

The frequency of use of your cooking facilities

The type of installation to be maintained

The extraction duct section
Cleaning Services takes care of the complete degreasing of your kitchen hood so that it regains all its original performance and optimal functioning.
Our kitchen equipment cleaning operation involves degreasing and chemically disinfecting the entire installation by spraying foam. The foaming solution injected into the ducts and into the hood is very effective. Nevertheless, we can totally opt for a steam cleaning solution for a 100% organic kitchen.
Professional catering establishments are the first concerned with the degreasing and maintenance of kitchen hoods. Indeed, hygiene in these environments is particularly sensitive. This is why qualified professionals must be called in to guarantee complete and effective degreasing (extractors, hoods, ducts, and cooking blocks).
The Cleaning Services team intervenes on the day your establishment closes, during holidays, or even at night. We are available 7 days a week, 24 hours a day, and on holidays.
With its experience in the field of degreasing grease extraction ducts, our cleaning company has been able to retain more than 500 customers for 10 years.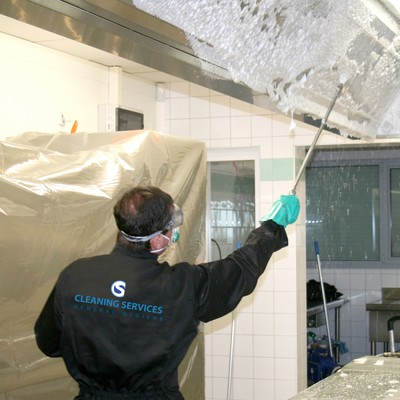 Article GC18 of the French Official Journal, concerning the maintenance of grease extraction circuits in professional kitchens, specifies that :

Cooking appliances must be maintained in good working order and cleaned as often as necessary.

The installations of extraction of stale air as the greasy fumes, must be maintained regularly and swept at least twice a year.